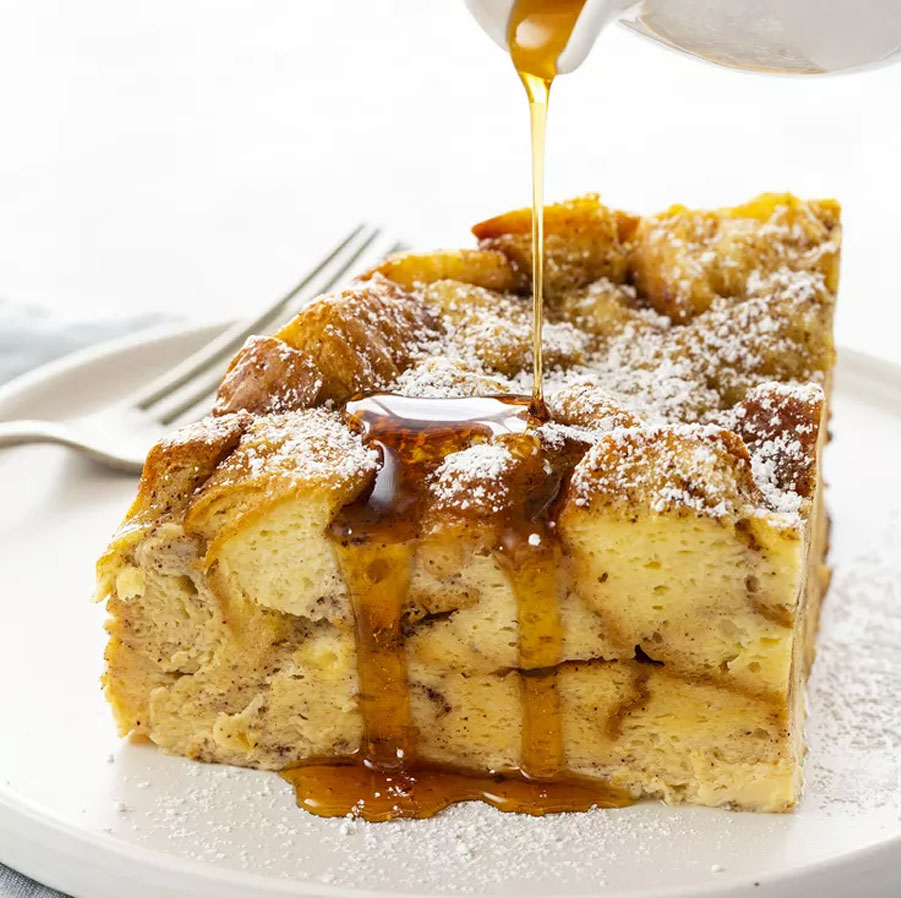 French toast is one of those comforting morning recipes that allows you to eat dessert for breakfast. What's not to love about thick-cut bread soaked in vanilla custard? It's the perfect way to transform a loaf of bread into something magical.
RELATED: Chicken Alfredo Pizza | Learn Recipe 2023
TABLE OF CONTENTS
●Igredients
●Instructions
●Serve
Ingredients
●1 tablespoon unsalted butter, softened
●16-ounce French brioche loaf, cut into 3/4-inch cubes (12 cups)
●8 large eggs
●4 cups half and half
●2 tablespoons granulated sugar
●1 tablespoon brown sugar
●2 teaspoons pure vanilla extract
●1 1/2 teaspoons ground cinnamon
●1/4 teaspoon ground nutmeg
●1/4 teaspoon kosher salt
●Powdered sugar, for sprinkling, optional
●Pure maple syrup, for topping, optional
Method
1.Preheat the oven to 300°F.
Set the oven rack to the center position. Grease the inside of a 6-quart slow cooker with the softened butter.
2.Toast the bread:
Spread the bread cubes in a single layer on a large sheet pan or two smaller pans. Bake for 20 minutes, stirring halfway through toasting. The bread should be lightly golden, dry, and crisp. Remove the bread cubes from the oven and let them cool for 10 minutes.
Once cool, transfer toasted bread to the slow cooker and arrange in an even layer.
3.Make the custard:
In a medium bowl, whisk the eggs. Add the half-and-half, granulated sugar, brown sugar, vanilla, cinnamon, nutmeg, and salt to the bowl with the eggs, and whisk to combine.
4.Add the custard to the bread cubes:
Pour the custard mixture over the bread. Press the bread into the liquid to submerge. Cover and transfer to the refrigerator for at least 60 minutes or up to 24 hours.
5.Bring the casserole to room temperature:
Remove the casserole from the refrigerator and bring it to room temperature for 30 minutes.
6.Slow cook the casserole:
Place the slow cooker insert into the slow cooker base, cover it with a lid, and cook it on the high setting for 2 1/2 to 3 1/2 hours, or on the low setting for 4 to 5 hours.
The casserole is ready when the custard is set in the center and puffy; it should not be runny or jiggle. It will shrink slightly once the heat is turned off. The center of the casserole should be above 175°F when tested with a thermometer.
7.To serve:
Allow the casserole to rest for at least 15 minutes before serving. Serve warm, sprinkled with powdered sugar and drizzled with maple syrup.